Hello!

I've received some comments recently on my new avatar regarding the animation.
I'd just like to clarify that the animation frames themselves were in essence created by the program I used called Qubicle Constructor.
Qubicle Constructor is a voxel image creation program
(
Click for Voxel Wiki
)
In Qubicle Constructor you can create images, scenes, etc with what I'd equate to being like giant 3D pixels, or toy blocks. Here's a screencap of the original heart I created in the program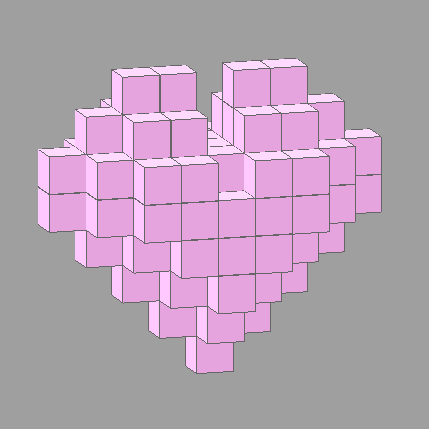 You can pan around the 3D construct to edit it from any angle. The program also has an option called 'turntable' which pans the object around like you see in my Heart avatar. It also allows you to save out an animated gif of the resulting image.
I did some editing to the animation in Imageready; cut the animation length by half (redundant frames), resized and then fixed up some ugly pixels. I also added the darker border just for personal taste. In the end though for me, through this neat program it was a pretty easy process, something just for fun

Check it out if you'd like!
Qubicle Constructor
Also check out some of these other Voxel Deviations!